Pole Top Protection
The following products are designed to protect that small but critical area - pole tops - from decay and the effects of weathering caused by rain, freeze/thaw cycles, and UV rays.
Pole Topper®
Pole Toppers create a durable, long-lasting barrier against moisture and sunlight that helps to maintain structural stability and preserva­tive retention. They adhere to virtually any shape pole and can be installed in minutes without hardware or tools.
The Pole Topper is manufactured from a cross-linked, reinforced, water, and UV resistant material with performance characteristics similar to commercial grade roofing. Pole Toppers are strong, light and easy to install. Pole Toppers maintain their elasticity and adhesion in both high and low temperatures.
Available in three sizes to fit both distribution and transmission poles
Highly resistant to UV degradation and weathering
Installation requires no metal fasteners
Adheres strongly to wood and to itself
Forms easily around existing hardware on in-service poles
Clean and dry to the touch
New "pull tab" backing allows for easy installation even while wearing lineman's gloves
Conveniently packaged ten to a box which can be easily stored on line trucks
RUS accepted for new pole construction
Pole Toppers are available in four sizes:
| Diameter | Pole Class |
| --- | --- |
| 12" | 6 and smaller |
| 16" | 3, 4, 5 |
| 19" | 1, 2, H1, H2 |
| 23" | H3, H4, H5, H6 |
Contact your local Osmose expert.
CoverCap®
CoverCap pole covers are designed to help protect pole tops from decay and the effect of normal weathering. CoverCaps can be installed on in-service poles, but they are ideal for installation on new poles prior to setting. They are inexpensive, durable, clean, and easy to use. Manufactured from low density polyethylene, CoverCaps do not constitute a source of radio interference.
CoverCap pole covers are circular with a 1" overlap and four 1" tabs. The inside of the cap features two circular ridges which supply additional strength to the CoverCap and allow proper ventilation. CoverCaps are quickly and easily installed by driving four 2" nails through the tabs.
CoverCap pole covers are available in various sizes for the pole classes listed below:
| Diameter | Pole Class |
| --- | --- |
| 6.5" | 5, 6 |
| 7.5" | 4, 5 |
| 8.5" | 3, 4 |
| 9.5" | 2, 3 |
| 10.5" | 1, 2 |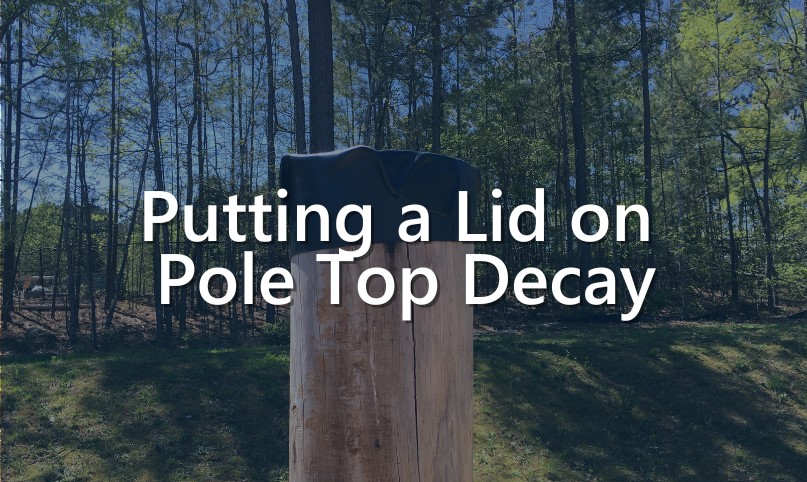 Pole Topper White Paper
After many decades of use, the wood pole remains a preferred material because of its durability, strength, availability in multiple lengths and classes, and low acquisition and life cycle costs. However, wood poles are susceptible to degradation by a variety of agents, both abiotic (non-living) and biotic (living).

Ready to learn more about the vulnerability of your pole tops and the best solution?