Understanding the Risks of

Aging Steel T&D Assets
Osmose is the nation's leading provider of steel asset assessment and resiliency solutions. Our team of specialized field technicians, structural engineers, and corrosion specialists is here to ensure your structures can weather the next storm. ​
We offer structure assessments, asset life extension, resiliency modeling, and full structure restoration and upgrades. Talk to an Osmose professional today about how we can partner with you.
The Truth About Steel
The increasing occurrence and intensity of storm events have led to more stringent code regulations and have shown that steel structures are vulnerable when exposed to environmental loading in excess of their original design capacity.​
Additionally, corrosion, storms, wildlife, and pollution are a few of the many elements that assail the integrity of steel structures. A complete structure and systemic approach are essential to maintaining grid strength, safety, reliability, and resiliency.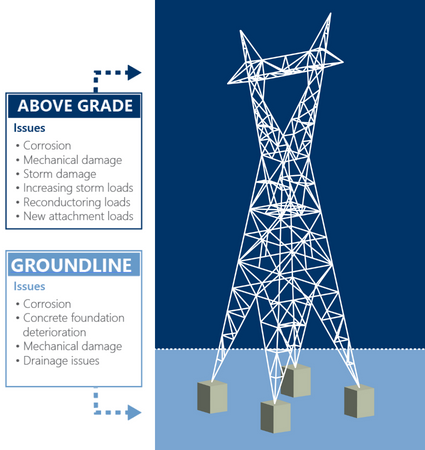 Steel T&D Assets Are at Risk of Nature's Fury
Faced with an aging steel network and an ever-increasing number and severity of weather incidents, how can a provider achieve steel structure safety, reliability, and resiliency within the budgetary confines of the current regulatory landscape?​
Osmose's Steel Resiliency Solution is the answer.