Transmission Structure Resiliency Services
Understanding the Risks of
Aging Steel
As they try to keep the lights on in their communities, today's utility executives face a range of aging infrastructure challenges. Their transmission and distribution assets were, in many cases, designed and built to less stringent codes and standards than today's. Power grids now face a combination of growing power demand and storms of increasing frequency and intensity.
Now more than ever, advanced asset resiliency strategies are essential. They can provide for steel structure durability, dependable power and overall infrastructure sustainability.
Benefits of Steel Asset Life Extension
The experts at Osmose provide a total structure assessment and restoration program designed for the modern risk environment. Life extension for aging steel infrastructure is a key part of our program.
Our approach brings together a range of potent and innovative tools in the hands of certified technicians:
State-of-the-art digital analysis of decades' worth of field evaluation data through our Osmolytics platform
Comprehensive aerial surveys and advanced LiDAR scans to gather on-site data and provide digital-twin modeling
Identification of high-risk structures and circuits with our proprietary SteelCalc algorithm
Barrier coating systems and cathodic protection
We use these technologies in concert to reinforce structural integrity and provide the benefit of advanced corrosion protection techniques where they're most needed.
The Key Steps in Restoring and Upgrading Transmission Assets
Sometimes, it's necessary to upgrade steel infrastructure or carry out comprehensive restorations. T&D asset management through Osmose can address those needs wherever they arise.
There are several key steps in the process:
Assessment
Protective engineering
Restorations and upgrades
The assessment process uses the advanced digital and scanning technologies noted above to provide a complete picture of structural health. It includes the creation of corrosion structure models that identify critical wind speeds and possible failure points. If our assessment determines there's a need for upgrades to mitigate risk or restore lost capacity, our life extension services can function as interim protection against threats.
When there's a need to go beyond life extension, Osmose offers solutions designed to meet the modern standards of the American Society of Civil Engineers. We can restore lost capacity and provide structural enhancement for greater strength where it's needed. Our asset maintenance solutions don't require outages or service disruptions to implement.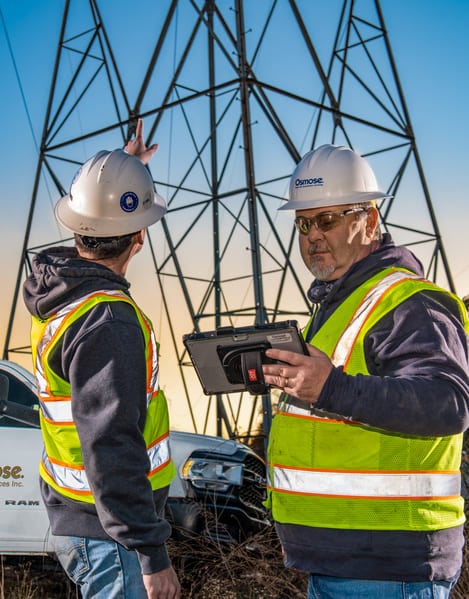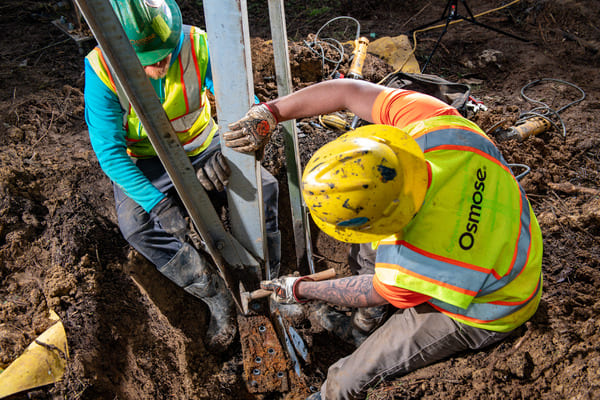 Common Issues with Aging Steel Transmission Structures
Osmose technicians are trained to identify and address many common structural defects before they pose a safety risk, including:
Corrosion:

External and internal corrosion can weaken the metal and reduce its load-carrying capacity.

Fatigue:

Fatigue can lead to stress fractures in the metal as a result of wind and other cyclical loading.

Welding defects:

Manufacturing and construction defects, such as incomplete fusion and porosity in welds, pose a risk to the structure's strength and performance.

Buckling:

This occurs when steel is subjected to compressive forces and can result in structural collapse.

Misalignment:

Improper installation often leads to misalignment, creating weak points that may increase the risk of failure over time.
Steel Assessment Consultation
Osmose is the nation's leading provider of steel asset assessment and resiliency solutions. Our team of specialized field technicians, structural engineers and corrosion specialists ensure your structures can weather the next storm.​
We offer structure assessments, asset life extension, resiliency modeling and full structure restoration and upgrades. Talk to an Osmose professional today about how we can partner with you for better transmission & distribution asset management.
Steel T&D Assets Are at Risk of Nature's Fury
Faced with an aging steel network and an ever-increasing number and severity of weather incidents, how can a provider achieve steel structure safety, reliability, and resiliency within the budgetary confines of the current regulatory landscape?​
Osmose's Steel Resiliency Solution is the answer.