O-Calc® Pro Pole Loading Analysis Software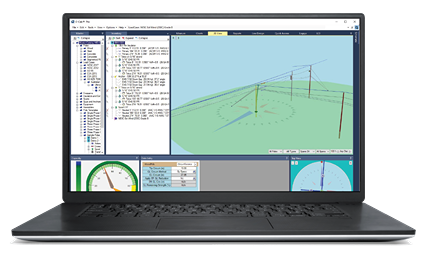 As the leading industry pole loading analysis (PLA) software, utilized by electric and telecommunication utilities and broadband providers throughout the world, Osmose's O-Calc® Pro features an advanced user-interface and calculation tools to model and analyze pole structures made of wood, steel, composite, or concrete. O-Calc Pro models either as a single pole or a full line design. The software also simulates various weather scenarios, including hurricane-force winds or winter ice storms to help pole owners understand which poles are at risk during extreme weather. O-Calc Pro also provides various solutions to harden at risk structures – helping to make a more resilient grid.
For more than two decades, O-Calc Pro has been trusted by electric and telecommunication utilities and Osmose engineers to provide accurate models of pole owners, engineers, and contractors. The detailed analysis can give insights not only into structure loading and capacity but compliance with structures such as required code clearance.

O-Calc Pro is easy to use and is highly accurate in performing comprehensive pole loading analyses for joint use, equipment or line upgrades, system hardening, and pole replacement. You are in control when using O-Calc Pro, so you know your system is safe and resilient, which will save you time and money.
O-Calc Pro Features
Other pole loading software products cost more for many important feature sets. But O-Calc Pro comes equipped with everything you need to properly analyze structures and ensure grid resilience. Here are some of the powerful features included in each instance of O-Calc Pro:
Quickly model entire circuits with O-Calc Pro Line Design, placing structures according to real-world coordinates using standard geographic information system (GIS)

A powerful user interface including catalog-driven design, live interactive 3d model, and drag & drop functionality

Modeling of wood, steel, concrete, and composite poles and components

Modeling of multi-pole structures such as H-frames

Automatic wire tension loads

Complete tension and sag calculator

Tough Truss® selector

Profile view of line-design



Automated clearance analysis

Strength reduction calculator

Customizable reporting

Heat map display of structures

Multiple master and user catalogs

Integration with Google Earth

Plugins supported to enable customization

Premium location modeling of service drops

GIS pole information import
See why O-Calc Pro is the leading
industry pole loading analysis software.
Ready to get started?
Request a quote for O-Calc Pro.
Simplify Advanced Pole Loading Calculations
O-Calc Pro is compliant with all pertinent codes for NESC 2023, GO95, CSA 2020, AS/NZS 7000 and simplifies advanced finite element analyses that incorporate:
Pole and attachment attributes
Wind and ice loads
Guy system analysis
Thermal loads on cables and conductors
Batch analysis of each pole within the line
Advanced moment capacity modeling vs. height
Advanced span tension modeling vs. span length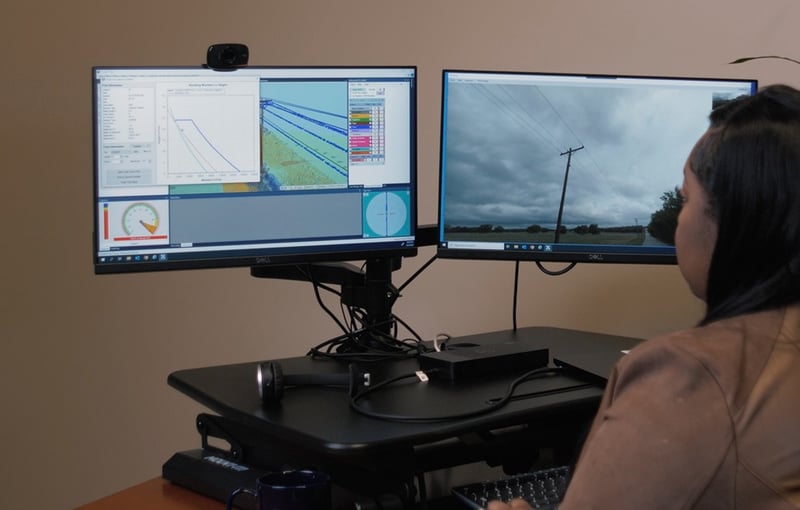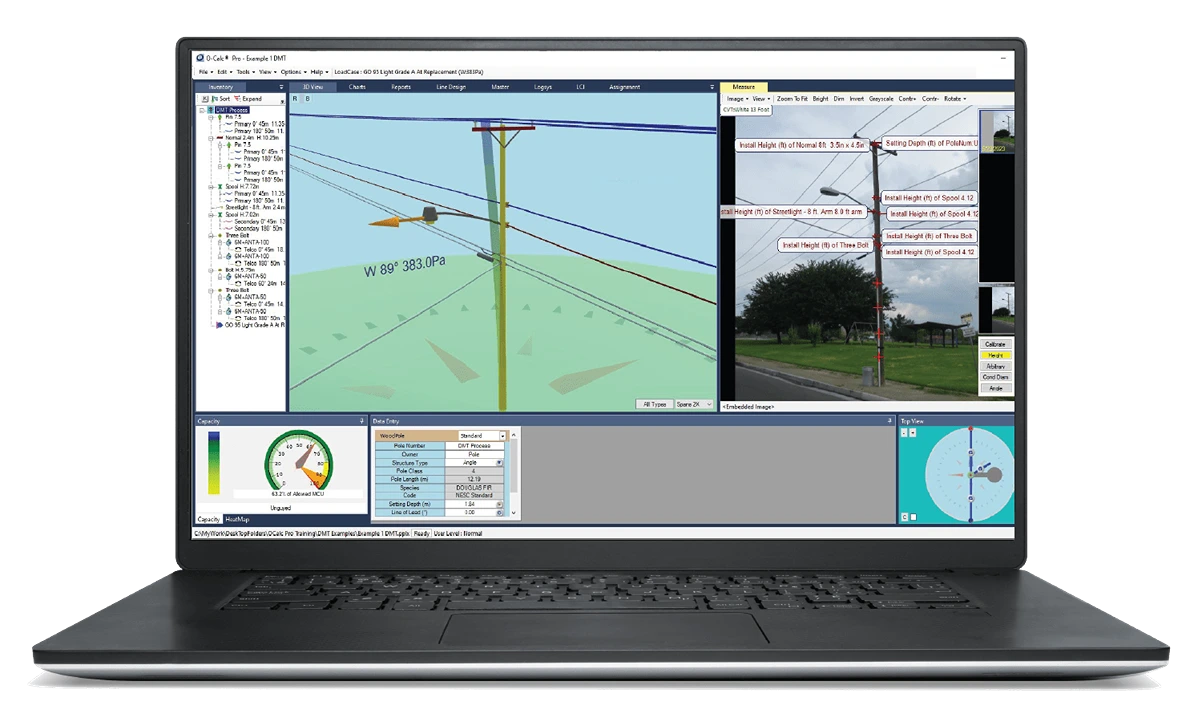 Digital Measurement Technology
A component of O-Calc Pro, Osmose Digital Measurement Technology™ is an image-based measurement tool that allows users to extract accurate measurements from digital images taken in the field. DMT utilizes an advanced photogrammetry engine to quickly produce accurate measurements which are applied directly to the model.
DMT was developed as an alternative to time-consuming traditional field measurements techniques, such as hot stick measurements and the use of surveying instruments. With DMT, O-Calc Pro users can extract the following measurements from digital images that contain a calibrated visual target:
Pole tip height
Attachment heights
Equipment sizes
Wire diameters
Line angle measurements
Relative measurements
Clearance measurements
O-Calc Pro Professional Services
The O-Calc Pro Line Design software package has a complete, standardized application programming interface (API) that enables the O-Calc Pro system to be enhanced or extended in various ways to meet your business processes and system integration needs.
The API is capable of integrating all your sources of data to make a complete model of your outside plant; a digital twin of your physical assets and electric network. With integration, model creation, pole loading analyses, and make-ready engineering can be facilitated directly from your LiDAR data.
The Osmose O-Calc Pro Professional Services Team has the specialized knowledge and expertise to fully integrate the O-Calc Pro system into your daily business processes. Our team has decades of experience working with electric utilities and telecommunication companies of various sizes to fully understand your current business and operation practices and to offer solutions to make your processes more efficient and streamlined.
The Osmose O-Calc Professional Services Team, coupled with the Osmose back-office Technical Service engineering and field crew teams, have all the necessary capabilities to augment your pole loading, clearance analysis, and make-ready engineering work.