Corrosion Mitigation & Structure Life Extension
Installation of corrosion mitigation, such as applying specialized coatings or cathodic protection, can extend the useful service life of steel poles, towers, and other steel structures for many years. Osmose has the knowledge, experience, and skilled workforce to help utilities develop optimal corrosion remediation programs that, in turn, provide long-term protection and life extension.
Coatings
The application of specialized coatings provides an improved measure of protection to alleviate potential corrosion concerns and ultimately extend the structure's useful service life.
Osmose works with our customers to understand the challenges within their footprint. These challenges include issues such as salt spray, low soil resistivity or industrial pollutants. With decades of experience behind us, Osmose is able to identify the most effective coating solution relative to each unique environment.
In cases where footings are not designed to prevent future corrosion, Osmose offers a variety of sealants to pair with our specialized coating systems. These sealants can prevent the pooling of water in critical areas, even on structures with complex geometry.
In areas with a high rate of freeze and thaw cycles, Osmose offers engineered concrete coatings and sealants that can protect structural footings from water and salt degradation.
For cases, where coatings were previously applied and have since exhausted their useful service life, Osmose specializes in a variety of surface preparation methods that ensure all existing, non-adherent coatings have been removed, so that the new coatings can be applied. Crews are trained in accordance with standards outlined in the EPA RRP course covering the safe handling of lead during coating renovation. If a customer is unsure if lead or asbestos-based coatings are present on their network of infrastructure, Osmose can conduct specialized testing through a nationally accredited laboratory.
Osmose is no stranger to unique and challenging environments and we work to ensure that our environmental impact is negligible while our work is being performed.

Cathodic Protection
Cathodic protection is a secondary mitigation method to target specific structures requiring additional corrosion protection. Cathodic protection works by connecting sacrificial anodes to steel structures and placing them in the same soil as the structure, ultimately providing an additional layer of corrosion mitigation. Cathodic protection does not eliminate corrosion activity, it simply transfers the corrosion activity from the steel to the anodes, which "sacrifice" themselves, to protect the structure.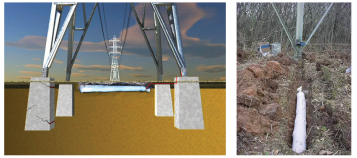 Many utilities are capitalizing on this service. Click the button below to find out more.