Steel Pole & Tower Restoration
Osmose provides cost-effective, engineered solutions to restore original strength and increase capacity for damaged steel structures. Restoration of steel structures costs only a fraction of the cost of total structure replacement and is tailored relative to each specific structure.
Structural Steel Repair
Osmose structural steel restorations are designed and implemented compliant to the American Society of Civil Engineers (ASCE) 10 specifications. Benefits of structural steel restorations include:
Corrosion rehabilitation to restore the original strength of the structure
The structure is temporarily supported during the repair process so that lines remain in service
Poles and towers receive structural updates

Concrete Foundation Restoration
Osmose concrete foundation repair is designed and implemented in compliance with American Concrete Institute (ACI) standards. Our services provide:
Concrete restoration or replacement
Increased capacity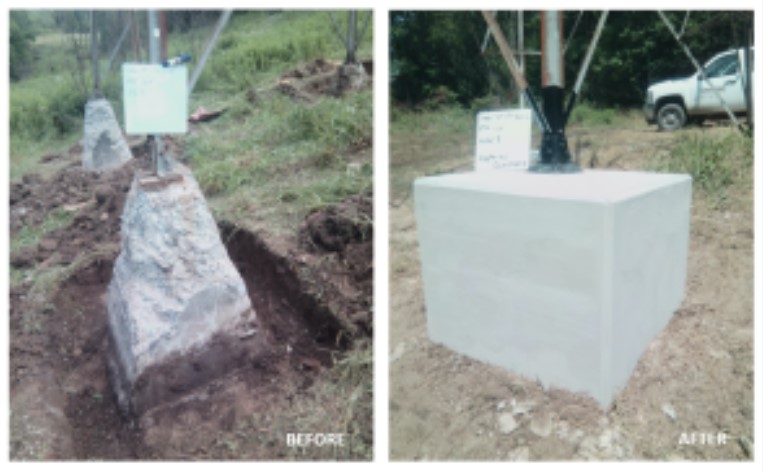 NeighborPlateTM
Transmission Pole Restoration Solution
The cross-sectional geometry at every pole elevation is unique due to specific characteristics such as pole taper and installation embedment depth. In many cases, common repair techniques are not properly engineered to consider this unique pole geometry at the localized corrosion, leading to fabrication errors or improper installation. Faulty repairs can lead to pole failure and subsequently pose unacceptable risks to structural reliability and safety.
Part of the OsmoPlate® Utility Pole Restoration System, the NeighborPlateTM solution overcomes issues common in other pole repairs and provides an unparalleled, true pole restoration system. NeighborPlates are designed to be adaptable to varying pole geometry and have the unique ability to accommodate variations in pole characteristics to enable an exact fit-up to the pole.
The NeighborPlate system is engineered to restore strength and fully encase the deteriorated area of the pole.
Universal restoration system for tapered polygonal steel poles
Restores strength loss from corrosion and some other types of pole damage
Capable of restoring pole design variations, including direct-embedded and base plate-mounted poles
Restoration can be performed without service interruption

Representative examples of direct-embedded poles at various stages of the NeighborPlate restoration process.