What's Holding Up Your Modern Smart Grid?
An aging wood pole plant from the 1950s.
Hurricanes. Nor-easters. Ice storms. Straight-line winds. Outages. Risk. Liability. This is the stuff of a utility asset manager's nightmares. And yet not enough utilities are investing properly in the long-term health of the wooden infrastructure that keeps electricity flowing to homes and businesses throughout the U.S.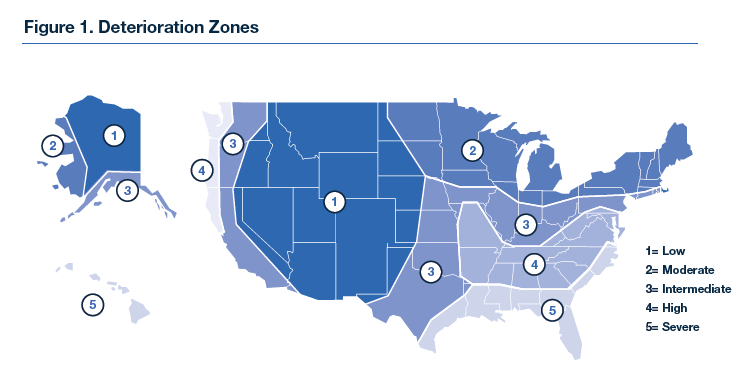 Conversely, utilities are pouring money into smart grid investments that may be obsolete in a decade or two. The industry has already spent billions and is projected to spend billions more on technology investments to expand and further improve smart grid infrastructure. But supporting all of this new technology is a very old one: a field force of wood utility poles in varying states of repair and with far too many only a few years from reject status—if they're not there already.
Ensuring the strength and resilience of the wood pole plant should be a key component of every utility's grid modernization investment. A successful, programmatic approach to wood pole inspection and treatment can be implemented at a fraction of the cost of the utility's overall smart grid investment—while delivering well-documented financial, operating and system resiliency returns.
And helping asset managers and executives to sleep a bit better at night.
Utilities are investing billions in smart grid technologies.
According to the U.S. Department of Energy, "Smart grid technology is being deployed to improve operational efficiency, reliability and resilience, but also to address the integration and utilization of distributed energy resources (DERs) where they are being adopted." In a 2018 report, the department stated that annual smart grid investments rose 41% between 2014 and 2016 from $3.4 billion to $4.8 billion—and are expected to rise to $13.8 billion in 2024.
The Edison Electric Institute reports even higher investment. According to their numbers, EEI's member companies have invested nearly $1 trillion since 2010 to build smarter energy infrastructure and to integrate new generation. These companies continue to invest over $110 billion per year to that end.
As part of this effort, over 98 million smart meters have been deployed across the country, covering about 70% of U.S. households. Expect another round of meter investments to come soon. Smart meter vendors are readying their latest generation of technology which leap frogs the installed-base of equipment in edge-intelligence and enables utilities to deliver a new range of services. Entire smart communities are being "powered by smarter energy infrastructure," with projects underway in applications like transportation/streetcars, parking sensors, electric vehicle (EV) charging stations, street lighting and highspeed internet access. EEI says members are spending about $1.4 billion on EV charging infrastructure alone.
Electric utilities are also heavily investing in distributed energy resources (DER). There are about two million distributed solar installations, for example, which are expected to double by 2023. And yet, Mackinnon Lawrence, Research Director at Navigant research, explains, "In the U.S., we haven't even begun to scratch the surface in terms of optimizing [DER] assets on the grid." DER could meet an estimated 20% of peak load by 2030. US energy storage annual capacity is also expected to keep growing—by 12 times—through 2024.
The numbers show that electric utilities have invested many billions of dollars to add smart technologies to the electric grid—and they'll continue to spend many more billions moving forward.
But what about the structures holding it all in the air?
Wood pole infrastructure faces increased demands.
In addition to all of the smart technology that has been added to the electrical grid, fiber buildout continues at an aggressive pace, increasing demands on system capacity. The FCC recently authorized more than $240 million in new rural broadband subsidies—the ninth allocation from the 2018 Connect America Fund (CAF) Phase II auction, which allocated $1.488 billion for the initiative intended to connect 700,000 homes.

Add to this the coming wave of 5G technology which requires utilities to hang additional fiber lines plus backpack-sized antennas and batteries spaced at 1500-foot intervals along their distribution infrastructure. It's estimated that the load on poles will increase by 10 to 15% from 5G-related equipment alone.

Meanwhile, the electrical grid must now withstand a potential increase in the intensity and frequency of extreme weather events. The Center for Climate and Energy Solutions (C2ES) explains, "Based on complex modeling, NOAA has suggested that an increase in Category 4 and 5 hurricanes is likely,
with hurricane wind speeds increasing by up to10%. Warmer sea temperatures also are causing hurricanes to be wetter, with 10 to 15% more precipitation from cyclones projected in a 2 degrees Celsius scenario."

The situation is also worsening for other black sky events. In a recent Utility Dive article, Natalie Ambrosio, Communications Director for climate-related risk firm 427, explained, "More frequent climate change-related extreme weather is showing utilities the past is no longer an accurate representation of what the future might look like." Both increased demand and increasingly severe storms require a strong, healthy transmission and distribution (T&D) infrastructure to reliably deliver electricity with minimal disruptions. But, according to Utility Dive, "…maintaining a high functioning power system is getting harder, which makes the risks, costs, and value of resilience more important."