Complete the form below to download the article.
WHITE PAPER
How to Avoid the Unseen Grid Threat: Buckling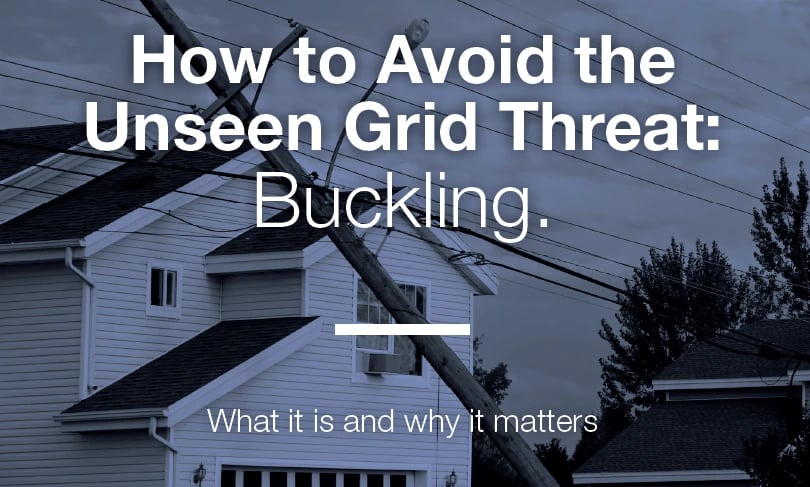 It was a seemingly normal spring day in the western United States when 26 utility poles crashed onto a busy six-lane street. One of the poles barely missed a passing cyclist, while the cross-arm of another landed between a couple driving their car. The two were trapped in their car for over an hour while rescue crews worked to de-energize the power lines and free the couple from their vehicle.
Apart from one report of lightning that turned out to be an electrical flash, it was typical April weather for the region—light rain with a maximum wind speed of less than 50 mph, certainly nothing that would normally bring down utility poles. What, then, led to this disastrous utility pole failure?
A later report from an investigation into the event revealed that several consecutive poles in the middle of the 26 had a "significant amount of internal groundline decay" and were the first poles to fail. Rather than breaking due to extreme winds, these poles buckled in the face of moderate gusts because internal rot left them with just a thin remaining outer shell at the ground line – which is the pole section from 6 inches above the ground to 18 inches below. With two circuits of large diameter, electric lines attached to these poles, the failure of the first poles caused others on both sides to be pulled down by the conductors in a domino fashion.
Over the past decade, innovative inspection service providers have developed new techniques to detect these unseen risks in a scalable way. Now, after extensive usage, data analysis shows significant savings from this more precise method – not just from earlier identification of poles that were higher risk than initially believed but also by avoiding the premature removal of others that were in better shape than old inspection approaches suggested.