Storm Services
The issue of system resiliency has garnered a lot of attention in the utility industry. Both electric and telecommunication utility companies have moved resiliency to the forefront of their key initiatives. Resiliency is first measured by how robust an electrical/communication grid is to thereby minimize service outages in a major weather event. The second metric of resiliency is how quickly service is restored.
Storm Recovery Services
Utilities across America rely on Osmose for industry-leading storm response and storm preparedness services. Osmose helps utilities respond quickly and effectively to assess damages caused by major unscheduled events such as hurricanes, tornadoes, ice storms, wildfires, mudslides, floods and other natural disasters.
Osmose is available 24/7 to deploy experienced and qualified field teams and technical resources quickly to help you restore power and communications to get life back to normal for your utility and customers.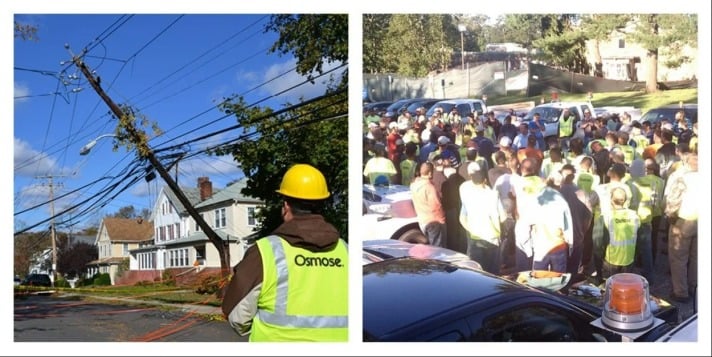 Osmose delivers the resources you need to recover from a storm:
A mobile, experienced workforce. Osmose can deploy field-tested crews to help you complete repairs and restore power, as well as technical resources to help staff storm centers to answer customer calls and enter assistance requests. We are a national company and can quickly deploy to your service territory within 24 to 48 hours of the request.
Mission-minded support personnel. Osmose crews will help with critical first-responder tasks including storm damage assessment, clearing debris, blocking off danger zones, patrol for downed power lines, and assisting restoration crews as needed to expedite the recovery process. A can-do, whatever-it-takes attitude is one of our trademarks.
Wide range of post-storm support. After power is restored, Osmose can then perform a network inventory to establish accurate, reliable field inventory data on the rebuilt network. The as-built data we collect can be delivered directly into your asset management systems.
Industry-leading track record. Utilities large and small have called on Osmose for professional storm-response services. We've provided pre and post storm-related services for the major storms along the coasts, in the plains states, and in other disaster areas.
System Hardening Program
Ensuring the strength and resilience of the wood pole plant should be a key component of every utility's grid modernization investment. A successful, programmatic approach to wood pole inspection and treatment can be implemented at a fraction of the cost of the utility's overall smart grid investment - while delivering well-documented financial, operating, and system resiliency returns.

Recent case studies have shown that utilities with an optimized, robust maintenance strategy experience up to 70% fewer pole failures during major storms, and achieve similarly faster system restoration times.

Case Study 1
A large southeast utility suffered over 12,000 wood pole failures in 2005 with category 3 hurricane Wilma - and only 4% of those outages were restored within 24 hours. After this devastating storm, the utility decided to invest in hardening their wood pole plant. This investment included inspection and treatment of more than 1.2 million poles, as well as restoring and replacing rejected poles and other system hardening measures.
They were ready when category 4 hurricane Irma struck in 2017 and saw a 70% reduction in pole failures. They were able to restore 40% of their outages in the first 24 hours.
2005Hurricane Wilma

2006 - 2014System Hardening Program

2017Hurricane Irma

Category 3 Hurricane

Inspect & Treat > 1.2M Poles
Restore or replace rejected poles

Categrory 4 Hurricane
12,000+ Wood Pole Failures
130 mph Design
Strengthened 860+ Feeders (CNET - Truss, Replacements)

70% Fewer Pole Failures
(0 due to wind)

70%
REDUCTION
4% of Outages Restored in 24 HRS
$2B+ Investment in Infrastructure
(incl. metering & preventative maintenance)
40% of Outages
Restored in 24 HRS
10X
IMPROVEMENT
---
Case Study 2: Neighboring Utilities Impacted by the Same Hurricane
In another black sky event, a hurricane struck a pair of coastal utilities with very different approaches to pole inspection and remediation. Utility A had a very limited program which identified only a small percentage of their reject poles. Utility B used a full excavate and treatment program and systematically identified and remediated a large percentage of their reject poles annually.
The hurricane made landfall in Utility B's territory, yet Utility A's territory suffered much more significant outages and pole losses. With increased structural resilience, Utility B experienced fewer, less extended outages and was able to restore power to customers more quickly and at a much lower cost.
| | Utility A | Utility B | |
| --- | --- | --- | --- |
| Pole Inspection Reject Accuracy | 98% | 30% | |
| | Actual Numbers | Factored Numbers | |
| Wood Poles Replaced | 152 | *2,790 | 18X |
| Number of Peak Outages | 95,000 | 487,984* | 5X |
| Cost of Restoration | $20M | $310M | 16X |
| Time of Restoration | 100% in 5 days | 100% in 13 days | |
Fill out the form below to speak with an Osmose professional.