OsmoVision™
A LiDAR and image recognition solution to improve the accuracy, consistency and efficiency of pole loading and clearance analysis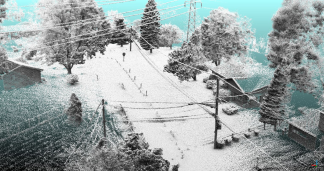 Situation
A pole loading analysis calculates wind and ice loading on poles and all their attachments. To make an accurate representation of the pole, a detailed field survey is performed. The survey technician will typically make observations and measurements of span lengths, line angles, equipment orientation, attachment heights, and equipment size using a wide variety of tools. This can lead to varying accuracy and inconsistency in the application of measurements and ultimately less accurate pole loading results.
With an increasing focus on the structural hardening of distribution assets across the country and the dramatic increase in new pole attachment requests, it is important to ensure engineering and planning decisions are made using the most accurate data.
Solution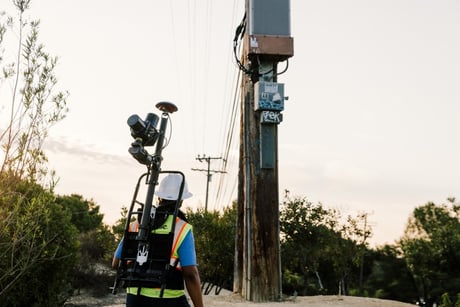 OsmoVision is an industry-leading technology solution, utilizing LiDAR and image recognition, designed to support pole loading and joint use permit application projects. This turnkey LiDAR collection and processing solution leverages the accuracy and repeatability of measurements and minimizes potential data entry errors to improve accuracy, consistency, and efficiency of pole loading and clearance analysis work-flows. Additionally, providing transparency of the field results enables all stakeholders to review the survey data utilized in decision making.
OsmoVision utilizes a combination of proprietary LiDAR point cloud classification and imagery recognition tools. It replaces manual pole measurement tools and eliminates the data entry variability that exists today in electric and telecommunications utility industries. OsmoVision consists of proprietary data processing tool sets that facilitate work-flows for permit application review and pole loading analysis projects. It uses various sources of LiDAR to efficiently create "digital twins" of utility poles and supported wires and equipment for streamlined analysis.
What Are the Benefits of OmsoVision?
LiDAR Classification - Fast, accurate point cloud classification and segmentation, leveraging Osmose utility experience and knowledge to create a more accurate model of your pole
Pole Location Indexing - Combination of LiDAR point cloud and GPS locations to accurately position structures to improve the pole owner's GIS asset locations
Image Recognition - State-of-the-art neural networks trained to identify utility poles, wires, and equipment for faster pole model creation
Improved Measurements - Attachment heights, span lengths, and line angles are now determined systematically from the LiDAR point cloud, ensuring improved accuracy for pole loading and clearance analysis
Lower Cost Model Creation - Digital Modeling of the pole and attachments created by combining LiDAR and image recognition data to improve accuracy and perform faster at a lower cost to the pole owner
Flexible - OsmoVision is compatible with all LiDAR acquisition sources including aerial, terrestrial, and non-OsmoVision collection tools
For more information about OsmoVision, contact your local Osmose representative or email poleinfo@osmose.com.