Use Technology to Prepare Your Grid For Broadband
Use Technology to Prepare Your Grid For Broadband
According to the Federal Communications Commission (FCC) 19 million Americans still do not have access to minimum broadband speeds of 3 megabits per second upload and 25 megabits per second download. Most of this broadband gap occurs in areas of the country with the lowest population densities per mile where the costs per user to construct broadband are high and the economics of providing service may be unsustainable. The federal government recognizes this broadband gap and is pouring billions of dollars into funding the deployment of broadband in rural America. Recently, the FCC awarded $9.2 billion dollars through the Rural Digital Opportunity Fund (RDOF) for broadband deployment. State and local governments also have funding initiatives in place to stimulate broadband deployment. In addition to governmental funding, the telecommunications industry is prepared to spend billions of dollars to upgrade their networks to continue providing fast reliable coverage to the communities they currently serve.
To facilitate this massive technology rollout the FCC has implemented regulation that requires pole owners to respond faster to application requests, amongst other things.
RDOF funding has been awarded to cooperative electric pole owners, rural telephone companies, cable television providers, and even fixed wireless and internet service providers. The award recipients of each of these industry segments will face unique challenges in this unprecedented technology rollout.
Telecommunications providers and electric utilities that receive funding will need to choose the most efficient planning strategies and be prepared to navigate which processes and procedures to apply. These decisions will vary from pole owner to pole owner.
Pole owners may have to change existing processes, add more resources, and train personnel in new skill sets to remain in compliance with current rules and regulations.
Pole owners will need:
A more organized and transparent way to process incoming attachment applications and to track and share the status of applications so they can plan next steps
Additional field resources to perform field surveys in a timely manner to identify potential rearrangement or make-ready work
Safe and effective approaches for measuring available clearances in the power supply and communication space to ensure compliance with National Electrical Safety Code (NESC) and state codes as well as adherence to construction standards
Accurate methods for capturing attachment heights as inputs to pole loading software
Additional engineering resources to review the attachment application and support electric connection requests to power the new equipment
Steps to Prepare for Broadband Deployment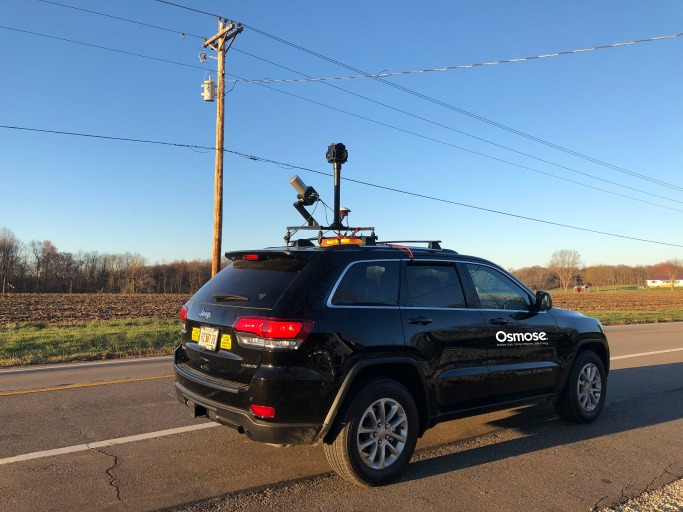 Fortunately, proven practices and improved technology can minimize the impact and help utilities and pole owners stay in compliance with regulations and improve safety, reliability, and customer satisfaction. To properly prepare for the increased activity and tightened time frames expected with the new pole attachment rules, an organized and efficient approach is recommended following these steps:
Preparation begins with a review of existing joint use agreements to determine their compliance with current applicable regulations and to determine if the pole owner is receiving full cost recovery for use of its infrastructure. Some agreements may also require that each party participate in the audit of pole attachments.
An audit of attachments should be performed by qualified inspectors, who understand both electric and telecommunications infrastructure, equipped with the best field tools available to collect and analyze captured data. OsmoVisionTM is a LiDAR-based collection technology that Osmose uses to efficiently collect and process data. The collected data should be provided to all participants and stakeholders in a user-friendly manner. Osmose utilizes the Osmose 360TM Joint Use Apply online portal with role-based access so all participants in the audit can view and interact with the data with access levels determined by the pole owner.
Using highly accurate digital measuring technology which can be analyzed using pole loading software and shared with necessary stakeholders delivers a faster, more accurate audit. This allows the utility to assess the state of their pole plant and manage their risk exposure effectively.
Remediating discrepancies, such as fixing clearance violations and other outside plant discrepancies such as double wood poles, is the next step in the process. Performing make ready engineering, pole loading analysis, and coordinating the movement of attachments to ensure transfers to new poles allows for faster application processing, minimizes construction delays, and removes line hazards safely.
Once the contract review, attachment audit, analysis, and remediation are completed, all that remains is continued proper management of the joint use program to comply with regulations and ensure the safe and timely provisioning of attachment requests. Budgeting for hiring and onboarding new employees can be a time-consuming process and the fluctuation of attachment requests may require a fast ramp up of personnel to address a broadband project only to see those employees reassigned when the work slows down.
Osmose can manage a program focused on ensuring that joint use administration is performed efficiently so the utility can focus on its core business of delivering safe, reliable, and affordable service to its customers.
Want to learn more? Register for our upcoming webinar on May 12, 2021!
Contact your local Osmose professional.