O-Calc® Pro Professional Services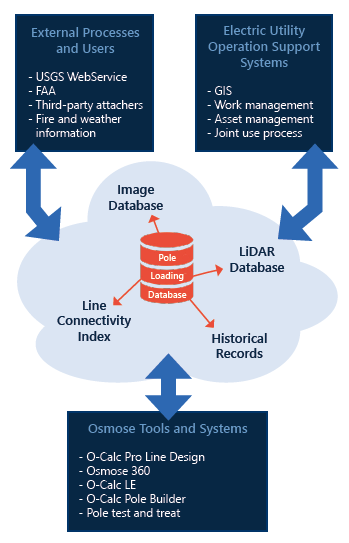 The O-Calc Pro Line Design software package has a complete, standardized application programing interface (API) that enables the O-Calc Pro system to be enhanced or extended in various ways to meet your business processes and system integration needs.
The O-Calc Pro API is a fully documented, complete library built on the C# and .Net Framework that makes scripting, plugin or application development easy and seamless.
The O-Calc Pro system can be integrated with many external third-party applications and the various operation support systems you are currently using on your network.
The API is capable of integrating all your sources of data to make a complete model of your outside plant; a digital twin of your physical assets and electric network.
The Osmose O-Calc Pro Professional Services Team has the specialized knowledge and expertise to fully integrate the O-Calc Pro system into your daily business processes. Our team has decades of experience working with electric utilities and telecommunication companies of various sizes to fully understand your current business and operation practices, to offer solutions to make your processes more efficient and streamlined.
Our solutions can be as diverse as enhancing O-Calc Pro with a plugin or script to make a repetitive task automatic, integrating O-Calc Pro into your current work flow, or auto generating O-Calc Pro pole models based on existing enterprise information. No one in the industry has more intimate knowledge of the O-Calc Pro system than Osmose, the creator of the premier structure analysis software platform!
The Osmose O-Calc Professional Services Team, coupled with the Osmose back-office Technical Service engineering and field crew teams, have all the necessary capabilities to augment your pole loading, clearance analysis, and make ready engineering work.
Contact Osmose today to learn more on how to optimize your O-Calc Pro implementation and create a best-in-class pole engineering process.