Osmose can develop your California GO 95 & GO 165 Formal Program
Leveraging more than 80 years of expertise, Osmose is a partner for utilities seeking solutions for aging infrastructure.
Whether the challenge is inspection, life extension, joint use, engineering services, or rehabilitation, Osmose can help you develop a formal program that is compliant with California GO 95 and GO 165. Our team is equipped with the necessary experience to perform distribution pole inspection, padmount inspection, overhead detail inspection, post wildfire inspection, and pole reinforcement. We have the knowledge, expertise, and the innovative tools and technology to make your grid as strong as the communities it serves.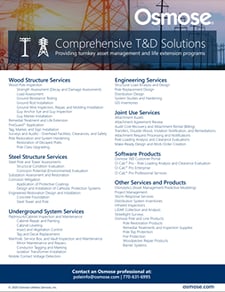 Download the full comprehensive T&D solutions linecard for more information.
CONTACT US
Speak with an Osmose representative about developing a California GO 95 and GO 165 formal program.