Structural Analysis Software for Utility Poles
O-Calc Pro features an advanced user-interface and calculation tools that make it a highly accurate and productive application for performing comprehensive pole loading analyses for joint use, equipment or line upgrades, system hardening, and pole replacement. Users can model utility pole structures made of wood, steel, concrete, and other types of poles and components, such as H-Frames.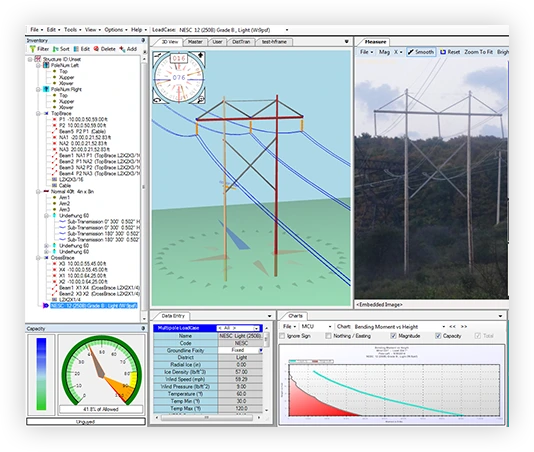 O-Calc Pro Line Design
In O-Calc Pro Line Design, a line of utility structures can be modeled and analyzed together, drastically reducing the time it takes to model a set of distribution poles across the circuit.
O-Calc Pro users have the ability to create line designs, placing the structures according to real-world coordinates using standard geographic information systems (GIS) such as OpenStreet, Google Maps, or Bing Maps. Or, you can use your internal GIS mapping system using Shapefiles or GeoJSON.
Download the O-Calc Pro Line Design brochure for more information.
A powerful user interface including catalog-driven design, live interactive 3D model and drag & drop functionality

Modeling of wood, steel, concrete, and composite poles and components

Modeling of multi-pole structures such as H-frames

Automatic wire tension loads

Complete tension and sag calculator
Automated clearance analysis

Strength reduction calculator

Customizable reporting

Heat map display of structures

Multiple master and user catalogs

Integration with Google Earth

Plugins supported to enable customization
O-Calc Pro takes the guesswork out of load calculation for line design, pole replacement, and joint-use loading.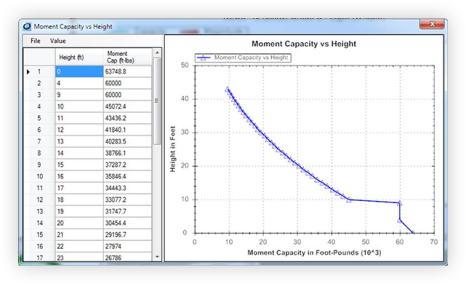 O-Calc Pro features sophisticated, customizable reporting and chart options, 2-D and 3-D viewing of pole configurations, and simple summaries of critical loading data.
3-Day Public Training Seminars
Training will be held over the course of three days.

Day 1: Half-day of Overhead Recognition; electrical distribution and communication equipment
Day 1: Half-day of Basic O-Calc Pro topics
Day 2: Full day of Advanced O-Calc Pro topics
Day 3: Full day of O-Calc Pro Line Design topics
Register early and save! $1,650 Early Bird registration, add $300 if registering 30 days prior to the event. Lunch and beverages are included.
Instruction begins at 8:00 a.m. each day and concludes by 4:00 p.m.
Gain a comprehensive understanding of O-Calc Pro functionality, including:


Pole Loading 101, regulations, and basic navigation
Default settings, layout, file storage, and catalogs
Modeling poles, including span options, cross-arm assemblies, and guy and anchor systems
Using bundle editor and creating generic equipment
Digital measurement technology (DMT) using photos
Analysis of reports, charts, and wire tension types
And much more!