CASE STUDY
Preparing Grid Structures for Hurricane Season
The Situation
The growing number, frequency, and severity of extreme weather events continue to make headlines. In 2021, America's Gulf Coast was pummeled by five major hurricanes. Nature's assault on that region's power grid creates many hardships for residents and businesses and enhancing the grid's structural resilience in that area is ever more essential.
The investor-owned utility knew it had to harden its power grid and had allocated funds to do so, but it needed a dependable and a defendable plan to support the work. With over 150,000 power poles stretched across the state, to prioritize its spending the electric utility needed to identify which poles could withstand the most extreme weather conditions and which ones required remediation to ensure the best value for its investment.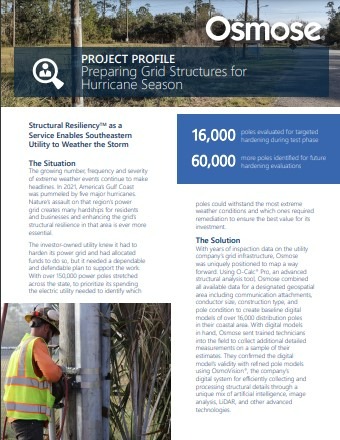 Interested in learning more about Resiliency?
Outages due to severe weather have increased significantly over the past 20 years. How prepared are your essential grid structures to withstand and bounce back from nature's fury?