Complete the form below to download the case study.
CASE STUDY
Patented Pole Restoration Solutions
Reversing the effects of corrosion and restoring steel pole strength without interruption to service.
The Situation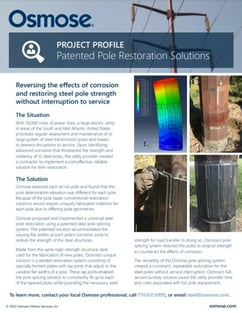 With 50,000 miles of power lines, a large electric utility in areas of the South and the Mid-Atlantic United States prioritizes regular assessment and maintenance of its
large system of steel transmission poles and towers to prevent disruptions to service. Upon identifying advanced corrosion that threatened the strength and
resiliency of 12 steel poles, the utility provider needed a contractor to implement a cost-effective, reliable solution for their restoration.
Fill out the form to download and read the solution.