Complete the form below to download the case study.
CASE STUDY
Cooperative Prepares for Broadband Pole Attachments
Internet access has become central to American life and commerce, yet 63 percent of rural American homes lacked a broadband connection as of 2020.
The Situation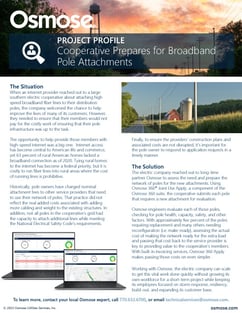 Tying rural homes to the internet has become a federal priority, but it is costly to run fiber lines in rural areas where the cost of running lines is prohibitive.
Historically, pole owners have charged nominal attachment fees to other service providers that need to use their network of poles. That practice did not reflect the real added costs associated with adding more cabling and weight to the existing structures.
Fill out the form to download and read the solution.