Complete the form below to download the article.
WHITE PAPER
5G: Here, There, and Everywhere
Wireless telecommunications networks interconnect the nation's machines and systems, fuel national economic growth, and allow millions of people to communicate.
To enable the high speed, low latency broadband services needed for today's wireless networks, telecommunications carriers are deploying the fifth generation (5G) of wireless services.
This 5G network is expected to provide technological and economic benefits to consumers, businesses, and municipalities. Critical infrastructure including utilities, hospitals, schools, transportation systems, and first responders will be profoundly impacted by the new world of 5G.
How does 5G impact utility pole owners?
The Federal Communications Commission (FCC) has implemented two orders to accelerate broadband deployment that will impact pole owners in the upcoming months. The FCC's "Accelerating Wireline" and "Accelerating Wireless" orders are forecast to result in an increase in volume of attachment requests and may require that some utilities change existing processes, add more resources, and train personnel in new skill sets to remain in compliance with current rules and regulations.
The Osmose Solution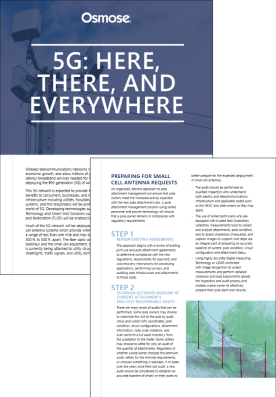 An organized, efficient approach to pole attachment management will ensure that pole owners meet the increased activity expected with the new pole attachment rules. Osmose implements a multi-step pole attachment management solution using skilled personnel and proven technology.
Review of existing pole attachment agreements
Establish accurate baseline of current attachments
Remediation of discrepancies found during the audit
Keeping your pole plant safe and reliable and associated data pristine
Fill out the form to download the full article.