Is Your Structure Innovation Ready Yet?
When evaulating new approaches to wood utility structure inspection, too often the answer is still no.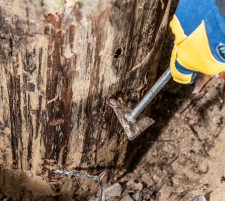 Most electric and telecom utility companies proclaim their commitment to both innovation and operational excellence but few combine the two – seeking to drive inspection innovation to support their grid infrastructure. Since a utility's first order of business is excellence in operating fundamentals, evaluating operational and field service innovation should demand as much rigor as exploring the next "Smart Cities" technology.
But is that always the case? Equipment like underground transformer vaults or utility poles are the grid's underappreciated workhorses. Keeping them in-service, operational, and safe is precisely the kind of complex and costly challenge where innovation can help. Unfortunately, sometimes, these unglamorous assets go unnoticed – literally and figuratively – because often critical portions of these assets are hidden from sight. When it comes to inspection innovation for these grid assets, it's possible that there may not always be the same level of discipline applied to vetting which new solutions are "ready for primetime" and which are not. Smart evaluation of unproven technology is crucial to any innovation effort, whether it's knowing when to say "go" or when to say "no."
As a partner with electric and telecom utility companies for ensuring safe, effective grid asset performance, inspection innovation is at the core of the Osmose business model. Since few utility companies do have a designated VP of Operational Innovation – particularly when it comes to grid asset management – our job is, in part, to fill the gap. We take an especially clear-eyed approach to what's new and balance optimism for success with hard-nosed verification of accuracy and affordability in the field.

This document provides an example of our rigorous approach to evaluating inspection innovations. The method we'll describe is grounded in two key elements:
1. Prioritized, innovation-specific evaluation criteria
2. Hands-on field testing of new options relative to best existing practice.
Following this approach will help you adopt what is truly ready without assuming the high risk and cost of mistakenly adopting a technology prematurely.